Welcome to the world of Plex, a fantastic platform for organizing and streaming your media content. Whether it's movies, TV shows, music, or photos, Plex offers an intuitive interface to manage and access all your media.
A Plex server essentially functions as the repository and manager for your media, and its efficacy directly impacts your streaming experience. As we advance into 2023, one key consideration should be how to future-proof your Plex setup.
Given the rapid growth of technology, ensuring your setup is adaptable to future changes can save you time, money, and unnecessary frustrations. This article serves as your guide in choosing the right Network Attached Storage (NAS) for your Plex server, thereby guaranteeing your media streaming remains enjoyable and efficient for years to come.
Factors to Consider When Choosing a NAS for Plex
When shopping for a NAS device for Plex, consider the following factors:
• Storage Capacity: Media libraries can consume vast amounts of space, especially when dealing with high-definition content. Therefore, it's important to have a NAS with sufficient storage to house your growing library.
• Processor and RAM: A powerful CPU and sufficient RAM are crucial for seamless media streaming. A stronger processor allows for multiple streams simultaneously, and more RAM ensures a smoother user experience.
• Transcoding Capabilities: Transcoding is the process of converting a media file from one format to another, allowing it to play on various devices.
Not all NAS devices handle transcoding well, so choose one that does, especially if your media library is diverse.
• Connectivity and Expansion Options: Your NAS should have robust network connectivity for smooth streaming. Additionally, consider NAS options that offer expansion possibilities to cater to your future storage needs.
6 Top NAS Options for 2023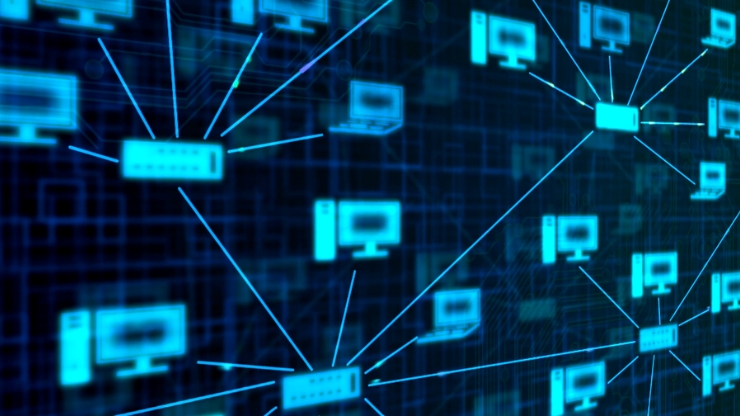 After extensive research, here are the top NAS options for Plex in 2023, each boasting unique features that make them standout choices.
1. The QNAP TS-464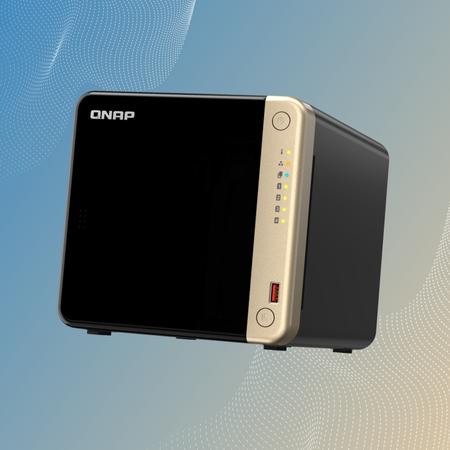 The QNAP TS-464 is a versatile and powerful NAS option, making it our top pick for running Plex on your NAS. With an Intel Celeron processor, 4GB of RAM (expandable up to 16GB), and two M.2 slots, it offers impressive performance and storage capabilities.
It supports up to four 3.5″ or 2.5″ SATA 6Gb/s HDDs/SSDs, ensuring ample space for your media library. One of its standout features is the ability to handle 4K transcoding, providing excellent video quality for Plex streams.
The inclusion of dedicated HDMI output adds convenience for direct connection to a TV. The NAS also features a single PCIe expansion slot, enabling faster networking (10GbE) or additional M.2 storage expansion. While the QNAP TS-464 offers exceptional features, it is worth noting that it falls on the pricier side.
However, if you have a large catalog of media to store and stream, the investment is well worth it. Additionally, the presence of two 2.5GbE connections and an HDMI port further enhances its versatility and eliminates the need for transcoding to a connected TV.
In summary, the QNAP TS-464 is a strong contender for future-proofing your Plex setup, thanks to its robust specifications, 4K transcoding support, expandability options, and dedicated HDMI output. Although it may be a bit pricey, its performance and features make it an excellent choice for those with extensive media storage and streaming requirements.
2. QNAP TVS-h674-i3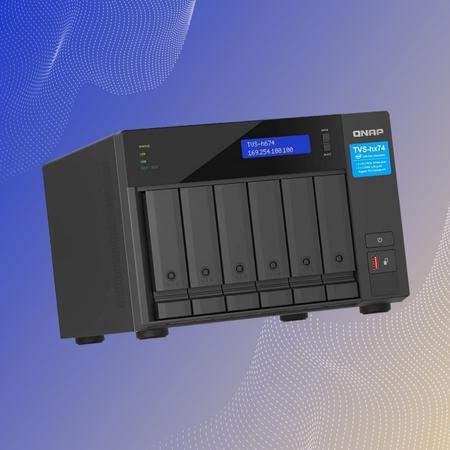 The QNAP TVS-h674-i3 is an unmatched NAS option that combines exceptional processing power with versatile features, making it perfect for heavy Plex usage.
Powered by the Intel Core i3-12100 processor, typically found in desktop PCs, this NAS offers unrivaled performance and headroom for the QTS OS. With 16GB of RAM (expandable up to 64GB), it can effortlessly handle large media libraries and simultaneous streams, ensuring optimal efficiency as your media collections grow.
This NAS goes beyond its Plex capabilities, delivering impressive performance for tasks like virtualization, big data processing, and creator collaboration. Its six drive bays support massive storage capacities, accommodating the largest drives on the market for a total capacity of over 120TB.
Additionally, the TVS-h674 supports SSD caching and expansion through its two M.2 slots. Connectivity-wise, the rear of the NAS features two 2.5GbE ports, one USB-C 3.2 Gen 2, two USB-A 3.2 Gen 2s, and an HDMI 1.4b port, allowing for 4K transcoding and direct media playback.
Furthermore, the NAS offers the option to upgrade network connectivity to 10GbE using the available PCI slots. It's important to note that this NAS may be considered overkill and expensive for users with basic needs.
In summary, the QNAP TVS-h674-i3 stands out as an incredibly powerful NAS, thanks to its Intel Core CPU, extensive storage capacity, expandability options, and versatile connectivity. Whether you require robust Plex streaming, resource-intensive tasks, or future-proofing capabilities, this NAS offers unparalleled performance for your media server needs.
3. Synology DiskStation DS220+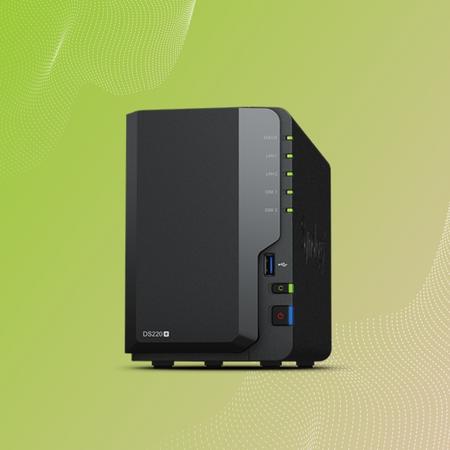 The DiskStation DS220+ is a compact, yet powerful NAS option from Synology. It features an Intel Celeron J4025 dual-core 2.0 GHz processor that can burst up to 2.9 GHz, paired with 2GB of RAM (upgradeable to 6GB). With two drive bays, the DS220+ offers up to 32TB of storage capacity, making it ideal for both Plex beginners and enthusiasts.
Save a little and enjoy a glorious NAS experience: The DS220+ strikes an excellent balance between performance and value, making it perfect for home users. Its two drive bays allow for a total storage capacity of up to 32TB, accommodating personal media collections even with redundancy in mind.
Powered by an Intel Celeron CPU and 2GB of RAM, it excels at 4K streaming through Plex and other demanding tasks. Pros of this model are that its Intel Celeron CPU Supports 4K transcoding DSM OS. On the downside it only has two drive bays, no expansion support, and only 1GbE networking.
The Synology DiskStation DS220+ has stood the test of time as one of Synology's most valuable NAS offerings. Equipped with a dual-core Intel processor and 2GB (upgradeable to 6GB) of DDR4 RAM, this NAS remains highly capable. While the two drive bays may limit long-term Plex use as your content library grows, it still provides a substantial amount of storage.
For instance, installing two 20TB drives allows for 20TB of space with RAID in use. However, the true highlight of this NAS lies in its operating system. DiskStation Manager (DSM) is widely renowned as one of the best NAS OS options available, enhancing the overall user experience.
4. The ASUSTOR Lockerstor 4 Gen2 (AS6704T)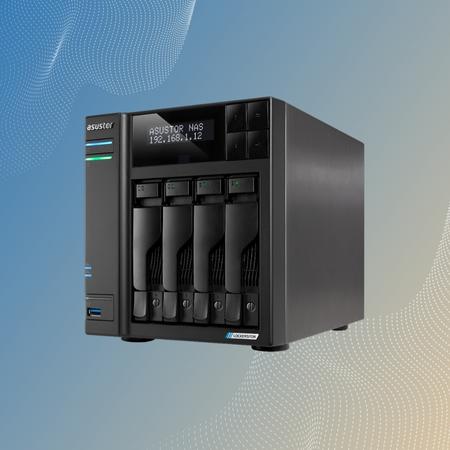 The ASUSTOR Lockerstor 4 Gen2 (AS6704T) is a highly capable NAS solution for running Plex Media Server and more. Featuring an Intel Celeron N5105 quad-core processor, it offers excellent performance with the ability to burst up to 2.9GHz.
The CPU supports hardware transcoding and comes with an integrated GPU, ensuring smooth playback. With 4GB of pre-installed DDR4 RAM, expandable up to 16GB, the AS6704T provides ample memory for running Plex Media Server and handling other tasks. Its four drive bays allow for extensive storage capacity, accommodating up to 80TB when utilizing the best NAS hard drives.
Furthermore, the ASUSTOR expansion units can be added to expand the system's capacity up to 12 bays, offering scalability as your storage needs grow. The AS6704T also boasts four M.2 SSD slots that can be utilized for SSD caching or storage, providing additional flexibility.
It features a variety of ports, including HDMI out for direct connection to a display, allowing for convenient media playback on a big screen. While the ASUSTOR Lockerstor Gen2 (AS6704) delivers impressive features and performance, it's important to note that it comes at a relatively higher price point.
However, considering its robust capabilities and expandability, it remains an ideal choice for those seeking a powerful and future-proof Plex NAS enclosure. In summary, the ASUSTOR Lockerstor 4 Gen2 (AS6704T) offers the perfect blend of performance, expandability, and connectivity, making it a highly capable NAS solution for running Plex Media Server and meeting diverse storage requirements.
5. TerraMaster F2-221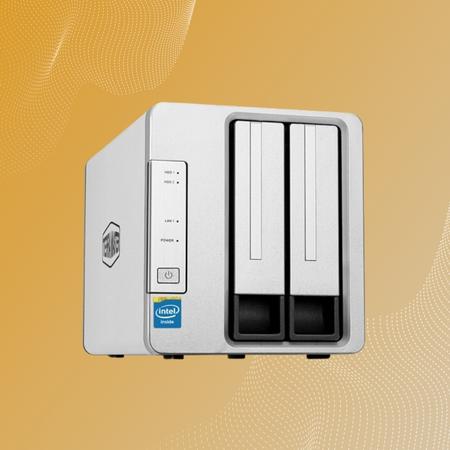 The TerraMaster F2-221 is an affordable two-bay NAS that stands out as one of the best options for running a Plex Media Server. It boasts an Intel Apollo J3355 2.0GHz dual-core CPU and supports up to 6GB of DDR4 RAM (2GB preinstalled).
This NAS is capable of transcoding media in 4K resolution, thanks to its powerful processor and integrated graphics capabilities. The versatility in storage options is another highlight, as it accommodates 3.5″ and 2.5″ SATA HDDs, as well as 2.5″ SATA SSDs.
While the TerraMaster F2-221 offers excellent value for its cost-effectiveness, it does have a few limitations. The two drive bays may restrict storage expansion, and there are no M.2 slots for additional SSDs.
Additionally, the operating system experience may not be as polished as Synology DSM, but TerraMaster's TOS still manages the enclosure efficiently and provides access to various downloadable apps from the respective store. In terms of design, TerraMaster sets itself apart with enclosures that have a unique aesthetic.
This NAS model competes directly with the Synology DiskStation DS220+ and even includes an HDMI port on the rear for direct connection to a TV. Overall, the TerraMaster F2-221 combines affordability, capable hardware, and sufficient transcoding capabilities, making it an enticing option for those seeking a value-packed Plex NAS solution.
6. Synology DiskStation DS220j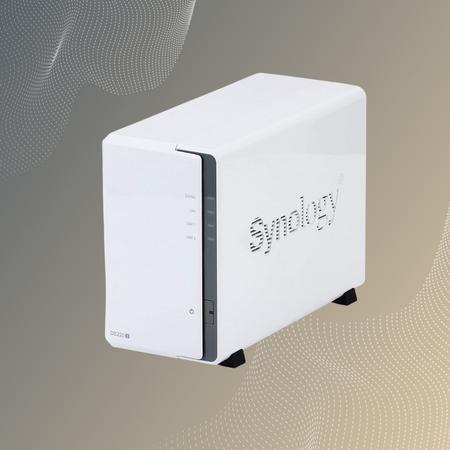 The Synology DiskStation DS220j is the most affordable NAS in our collection, making it the cheapest and least powerful option for running Plex. With its quad-core Realtek ARM processor and 512MB DDR3 RAM, it may not match the raw performance of the DS220+.
However, its main selling point is its price, making it an attractive choice for those on a budget. While it lacks the capability for hardware transcoding and has limited storage capacity, it still offers the same DSM OS and quality first-party apps as its more powerful counterparts.
With two drive bays supporting up to 16TB in total and the ability to function as a storage unit or off-site backup, it serves well for basic data needs.
Although it may not handle multiple video streams or 4K media without a compatible client device, its DSM OS makes it a solid introductory NAS option for running Plex alongside other tasks.
Conclusion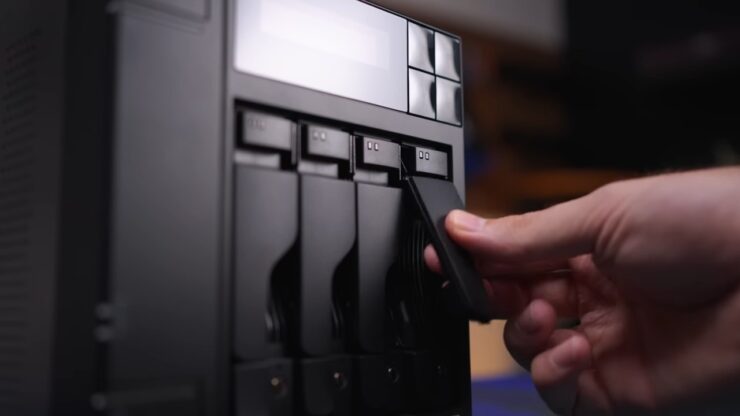 In an age where media consumption is increasingly digital, future-proofing your Plex server is a wise investment. Whether you're a Plex newbie or a seasoned enthusiast, choosing the right NAS device plays a significant role in this process.
Each of the NAS devices listed above offers a unique set of features that cater to different needs, but all are capable of providing a robust and efficient Plex setup for years to come.
Remember, the goal is to make a choice that satisfies your present needs while keeping an eye on future requirements. Feel free to explore these options further, and don't hesitate to share your experiences or ask questions in the comments section. Happy streaming!